About Us
The Winchester Gig Guide was started by a group of live music enthusiasts in 2009. It is funded out of our own pockets. We provide a free service to venues and musicians to publish their events.
We are not affiliated with any local newspapers, radio stations or other businesses.
You may occasionally see gigs listed that aren't local. We generally tend to stick to within 10 miles-ish, but if a local band or artist asks us to list their out-of-town gigs we're more than happy to do so, because they deserve our support whether they are playing locally or not.
If you'd like to contact us, please use our contact form or message us through Facebook.
Contacting Us
If you'd like to contact us, please use our contact form or message us through Facebook.
Facebook  Contact Form
Terms Of Use
Please note that alterations to the published events may be necessary from time to time. Whilst every effort will be made to keep the details on these pages updated, the Winchester Gig Guide accepts no responsibility for any costs and/or expenses that may be incurred as a result, directly or indirectly, due to any changes to the published information. Also, some venues listed in the Winchester Gig Guide may charge an entrance fee to certain events. In either case, you are advised to contact the venue to check that the published event will be taking place and confirm possible charges before making any arrangements.
The Winchester Gig Guide reserves the right to modify, add or remove the contents posted on this site at any time. The Winchester Gig Guide accepts no responsibility with regard to the availability of this site.
Accuracy of the guide:
Every week we try to check all the events listed through to the weekend and we often find events have been cancelled or changed, so please double-check the guide to see if your event is still listed before making plans. If you do find any event information that you know is incorrect, please let us know so we can fix it.
Privacy Policy:
The Winchester Gig Guide believes in protecting your privacy above all else. When you contact us we will take all reasonable precautions to ensure that your personal information is secure and we will not share your information with anyone else except when required to do so by law. We only use cookies for logged-in admins.
Links to other websites:
Links to third party websites are solely provided as an additional reference resource and you may access this content at your own risk. The Winchester Gig Guide cannot regularly review such third party contents, therefore Winchester Gig Guide makes no warranties or representations (either expressed or implied) as to the contents or availability of third party websites. Listing and linking should not be taken as an endorsement of any kind.
Linking to Winchester Gig Guide:
The Winchester Gig Guide welcomes and encourages other websites to link to the information that is hosted on these pages.
Use of posters or photographs to advertise events:
In 2015 we started publishing the posters or photographs that venues and musicians are using to promote their events on social networks or generally in the public domain, along with the relevant event information. In order to do this, we are making a reasonable assumption that the venue or musician has sought any necessary licensing or permission to use any artwork or images depicted in their poster before they share it publicly. Therefore, if you see any artwork or image on the gig guide that you believe is being used without the necessary license or permission, we will remove the artwork or image from the gig guide on request and then advise you to contact the venue or musician that is using the poster or photograph to promote their event.
© Winchester Gig Guide 2009-2023
---
Please note: As per our terms of use, the events listed are not in our control, so they could be changed. Also, some venues may charge an entrance fee to certain music events. In either case, we recommend that you contact the venues before making your arrangements.
Is This Thing On? Podcast
The best music you have never heard

Available on Spotify, iTunes and all good Podcast catchers, Nick Tann's independent music Podcast 'Is This Thing On?'. Dedicated to bringing you new music from unsigned bands from around the world - isthisthingonpodcast.com
---
Spotlight
WEDNESDAY 06 DECEMBER 2023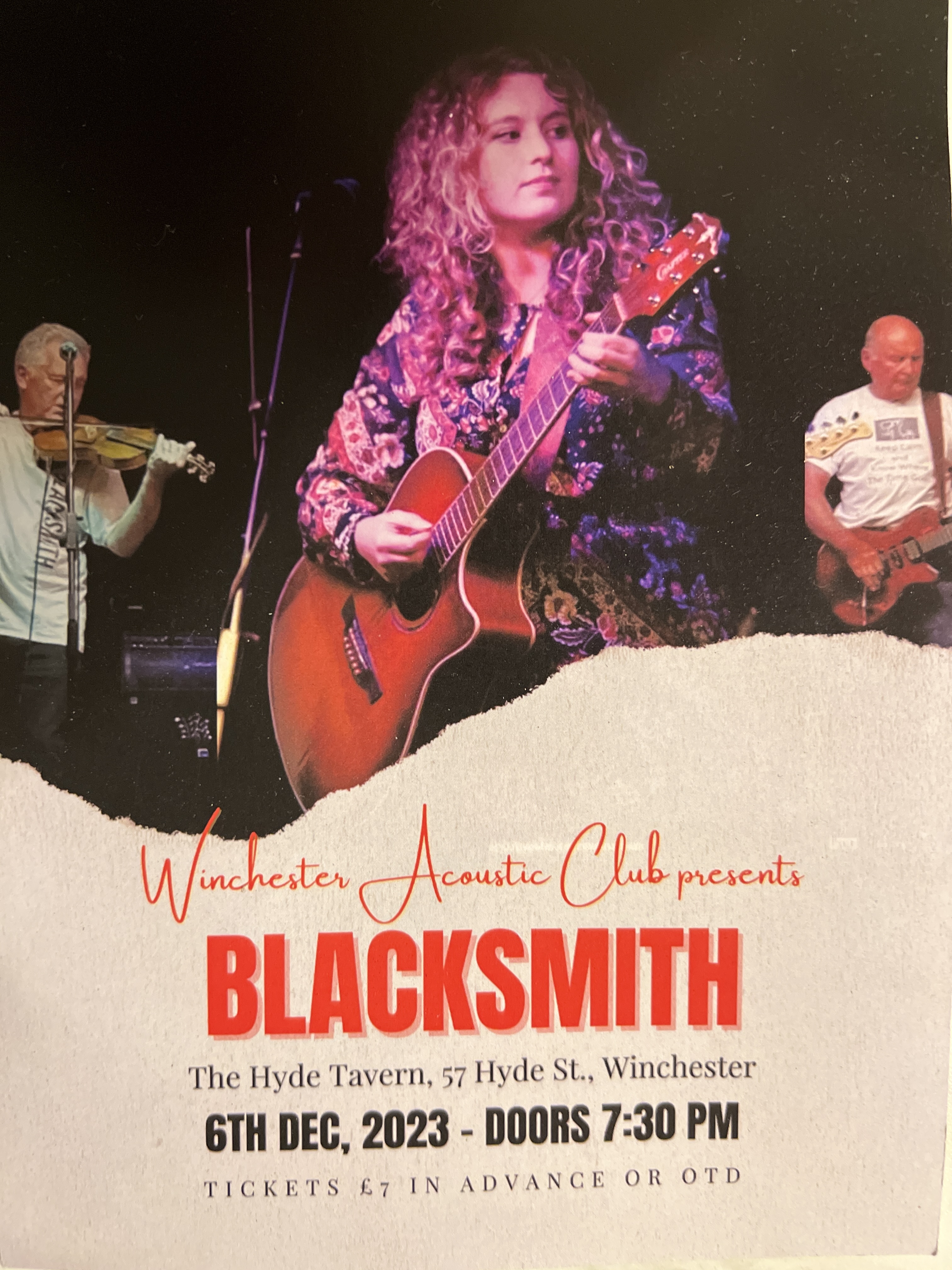 Blacksmith


Venue: Hyde Tavern Blacksmith on Facebook: www.facebook.com/BlacksmithFolkRockband. Electric folk/rock band Blacksmith are an emerging band based in Winchester playing British electric folk/rock in the style of Fairport Convention, Steeleye Span, The Albion Band etc.